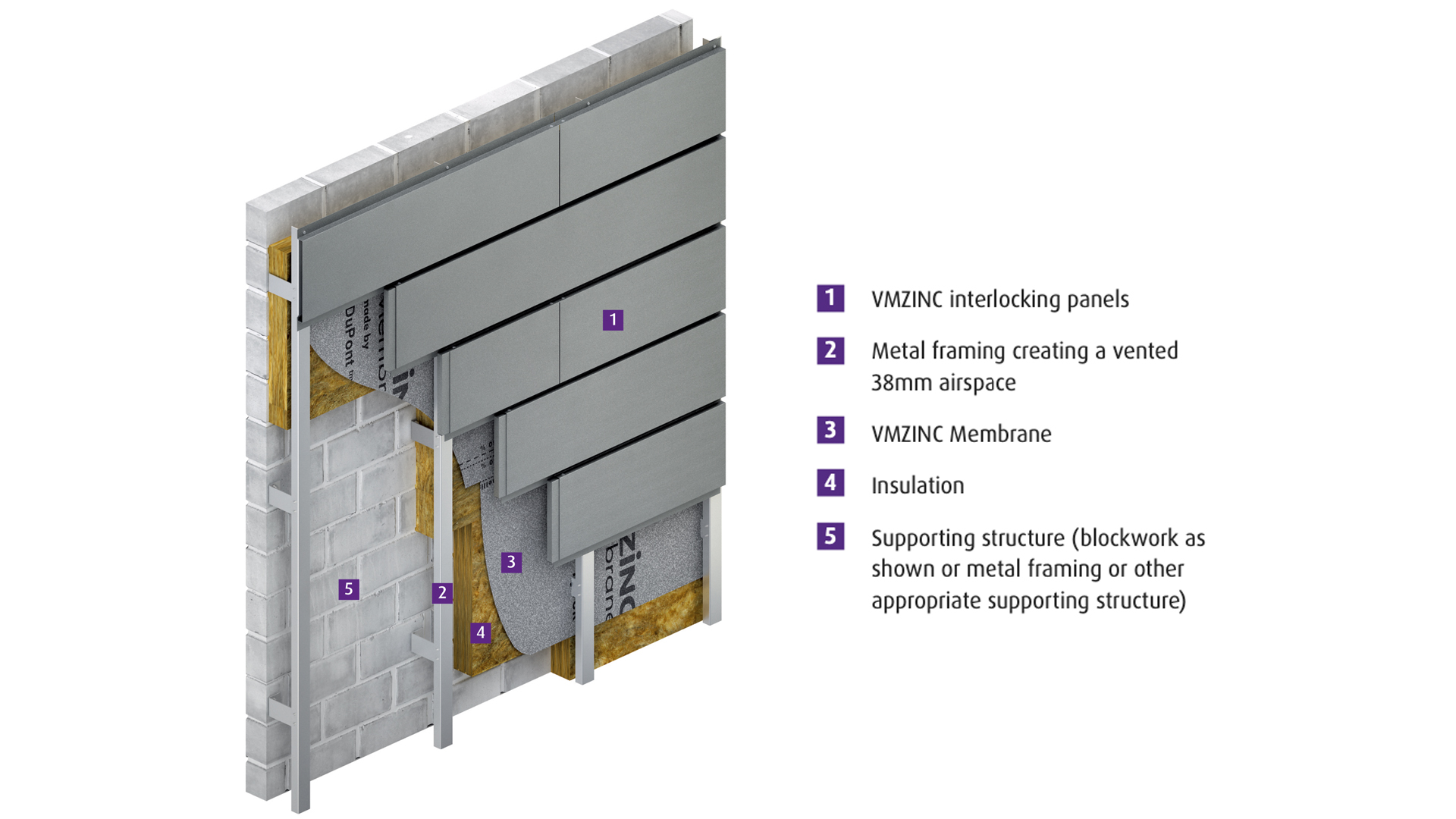 Interlocking panel
Facade
Clips
Hidden
Reveal
Interlocking panels
Advantages
CWCT tested by UK fabricators
Elegant linear panels
Interlocking attachment with concealed fastening
Variable joint size
Vertical or horizontal installation
General advantages of Zinc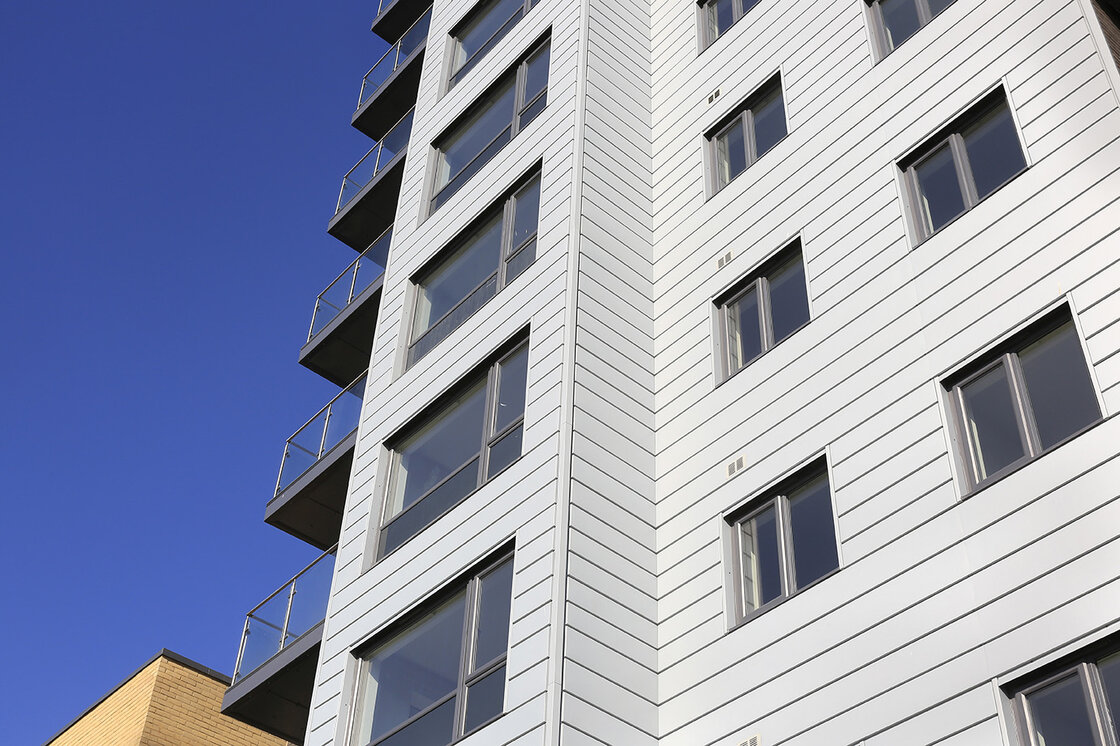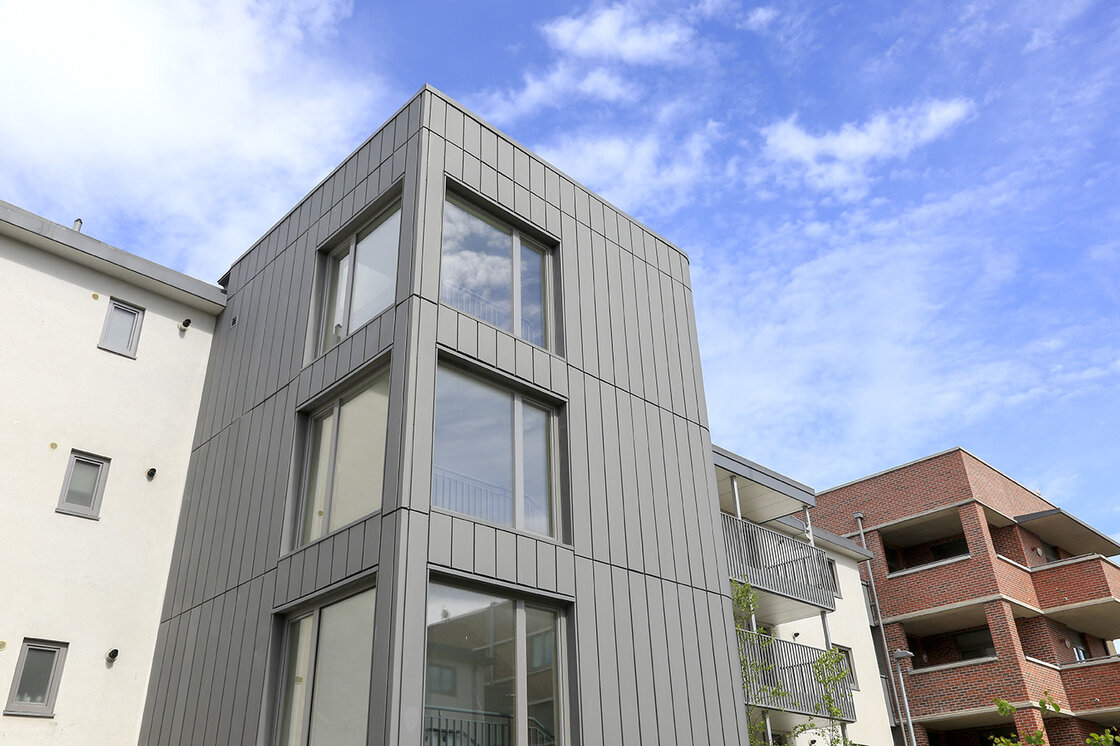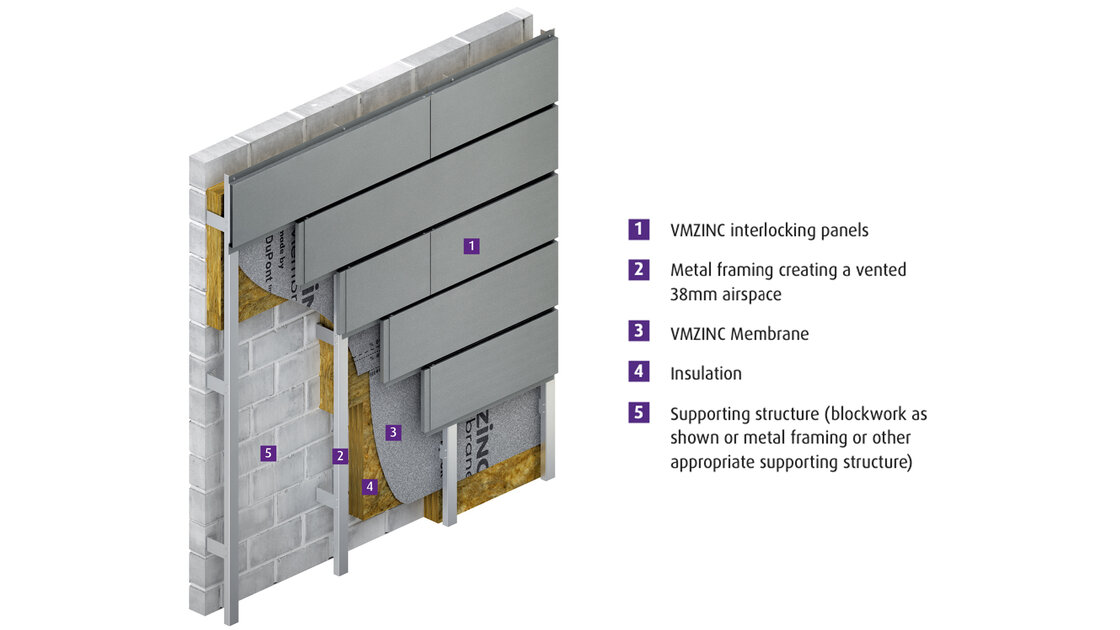 Overview
Interlocking Panels consist of a panel face, reveal joint and are fixed in position using hidden fasteners. The panels can be orientated horizontally or vertically and can be applied equally to soffits. Panels are available in all finishes of 1mm thick VMZINC with standard panel widths being 200mm, 250mm and 300mm. The maximum panel width is 333mm and length 6m, panels of less than 0.5m are not recommended. Joint widths can be either 10mm or 20mm. It should be noted that panel width = panel face + joint. The depth of the panel is 25mm.
Structure
The system is relatively lightweight as the panels weigh no more than 12 kg/m2 and can be fixed back to both timber and metal sub frames. Support rails are installed at 600mm centres (maximum). Aluminium rails are 2mm thick with both timber and aluminium rails requiring a supporting face of at least 40mm. All panels that are over 2m in length must allow for thermal expansion and contraction by using stainless steel clips. The fixed point being at the top of the panel for vertical installation and in the middle for horizontal installation.
Areas of application
Suitable for both renovation projects and new buildings - All types of buildings : commercial, public buildings, collective and individual housing.
Dimensions
| | |
| --- | --- |
| Panel thickness | 1 mm |
| Maximum panel size | 333 x 6000 mm |
| Finishes | VMZINC PLUS must be used on all non-vertical flashings if open gap soft boards are not being used. |
ANTHRA-ZINC

AZENGAR

PIGMENTO Charcoal Blue

PIGMENTO Storm Grey

PIGMENTO Blue

PIGMENTO Brown

PIGMENTO Grey

PIGMENTO Green

PIGMENTO Red

QUARTZ-ZINC

Natural zinc
Documents and drawings
Please enter your E-mail address. We will send you the download link by mail.
Success Download Link
Success Download Link
Fail Download Link
Fail Download Link description
The panels are installed in a sequential order from top to bottom for horizontal panels. The upper edge of each panel is engaged into the lower edge of the panel above. The panels are mechanically attached using screws and/or the panel fixing clip that allows for thermal movement. The panels should be installed with the protective film in place.
Do you have a question or remark? Please, leave us a message.
;
;