Projects /
01 January 2020
Kennedy Town swimming pool, Hong Kong (China)
Hong Kong has to make a place for itself between sea and mountains to construct its buildings. Everything is considered to reconcile growth and shortage of land. When vertical densification, burying infrastructures under hills, taking land back from the sea are not possible, programmatic acrobatics can be a solution.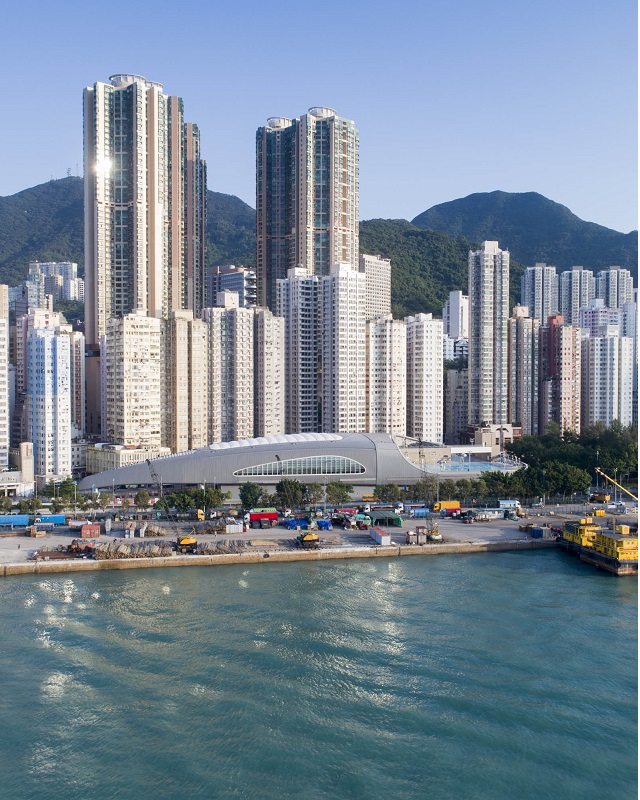 The construction of the Kennedy Town Swimming Pool did not escape this tricky game. Kennedy Town, in the Western District of Hong Kong Island, was the long-standing location of a swimming pool on a site subsequently chosen for a new station for the Mass Transit Railway, the local underground system. To compensate for the construction of this station, the local authorities and Mass Transit Railway worked together on construction of a new neighbourhood swimming pool. The availability of land and railway tunnel construction necessitated the facility being built in two phases. An open-air pool was completed first, in 2011, and was followed in 2017 by the completion of a large indoor pool and a covered public square.

The design aspiration for the new swimming pool was for a spectacular architectural design on this waterfront site that also demarcates the entrance to Kennedy Town. The Farrells architecture firm responded to this by designing a building with a zinc envelope that makes it almost unavoidable. Which does not prevent the facility from being a contextual building, drawing its form from the triangular geometry of the plot and inspired by the lively atmosphere of wet markets, old light industries, shipping businesses and other metal structures intensively used along the waterfront.

The zinc walls rise up from the street to protect neighbouring residential buildings from the noise of swimmers, and descend to open onto the view over the harbour and the sea. The QUARTZ-ZINC® cladding was chosen for its capacity to develop a patina and for its durability.

It makes it possible to unify a building constructed in two parts, with its ductility facilitating junctions between the existing curved surfaces and those newly created. With the translucent roof and window wall on all sides, the indoor pools enjoy an abundance of natural light, an invitation to swimmers to come to this facility, which is exceedingly singular and very different from the surrounding towers that make its 28 metres in height seem almost tiny.