Projects /
01 January 2020
Atlas Garden, Stockholm (Sweden)
The return to cities is an urban phenomenon of the early 21st century that has led to even the most ordinary constructions located in the extended perimeter of urban centres being upgraded. The completion of the Atlas Garden, a 7,300 m² office building located close to the Central station in Stockholm, is a good example of this.Although situated at the heart of the city, the building to be renovated was located in a particular environment.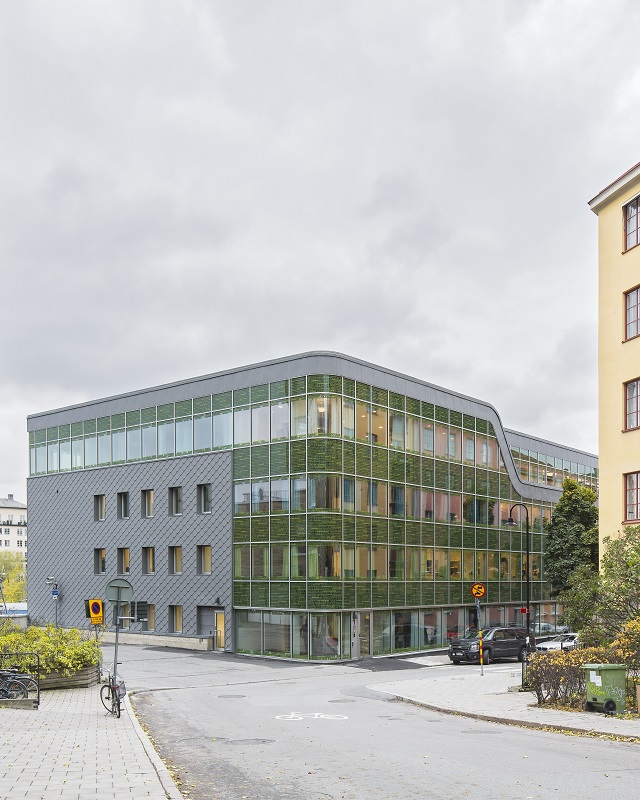 Constructed on a long, narrow plot, the southern facade overlooks a side street that is not very wide. Its northern facade faces a major railway line terminal, an infrastructure that totally isolates it from the shores of one of the many inlets that border the Swedish capital. The architecture of the building is quite classical: a main structure with a predominantly parallelepiped form and four levels, completed by an overhang on the street side.

Comparison of images of the old building with those of the renovated project show some persistent features: the six windows of the east gable were retained and clad in zinc. But comparison also reveals some major changes. The building was given a roof extension over almost its entire surface, with tri-partition of the base / structure / attic borrowed from classic architecture, but in this case creating modern lines. The additions to the southern facade are identifiable by their glass walls.

The existing facades were clad with pre-formed ADEKA® zinc shingles, complemented by strips of interlocking profile on the window surrounds. Using a standard product made installation easier so close to the railway line, a proximity which made operations very tricky. On the west gable, the zinc cladding gives relief and movement to the building. The metal shingles cover a staircase, forming a dynamic volume that lifts the building out of anonymity and banality. A fluid architectural image in this restricted plot.